Self-Contained Decontamination Units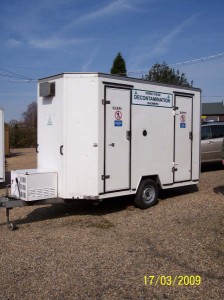 For applications where mains services are not available we stock self-contained decontamination units with a footprint which allows them to fit into a car parking space.  All units offer:
Three separate compartments – Clean, Shower, & Dirty.
A HEPA grade air filtration and extraction system.
Thermostatically regulated hot-water showers.
All trailers can operate in "standalone" mode with integral clean water tanks (200 – 360 litres capacity), silenced on-board generator (LPG electric or recoil start), and balanced-flue room-sealed LPG water heater.
Trailers are available suitable for up to 8 people.  For the convenience of users – if mains services are available – our self-contained units can also be coupled to these.
Factors to help you choose our self-contained decontamination units
Our units carry a lot more water than competitors (200-360 litres vs typically 80 litres).
Our trailers can be towed around with their tanks ready-filled, which makes them ready to work immediately on arrival.
Models with LPG generator are integrated, very quiet, and are secure against theft.