Ex-Hire Fleet Dust Suppression Water Mist Cannon For Sale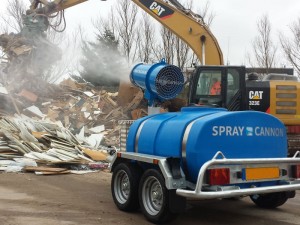 The SC15 Spray Cannon is entirely self-contained with its own generator, pump, and mist cannon integrated on a towable 1140 litre bowser; it can operate autonomously for up to 4 hours before requiring re-fill.  The cannon is mounted on a turntable – simply rotate to face the direction required, adjust the tilt / elevation – and turn on.  In addition the trailer is equipped with a rear spraybar for damping down tracks and roadways.
The cannon has a 15 metre throw & tilt elevation is adjustable from – 10  to  + 60 degrees.  The trailer is equipped with a 50mm ball coupling (can be changed for a ring coupling), over-run brakes, and 12v road lighting for both site and highway tow.
Currently available: 1 x Unit @ £6,900 + VAT each.
Note: images are for general illustration of equipment for sale, individual units may vary in detail.
The Super Mosquito Misting Cannon features an automatic oscillation facility which allows it to sweep back and forth across user selected arcs of 40, 120 or 360 degrees – covering very large areas.
Or it can be used in static mode – spraying mist in a single direction.
This very compact unit will operate from a standard 110v site power supply (32amp) and only requires water from a standard 1/2 inch hose at 2 bar; water usage is very frugal at only 15 lires per minute with standard spray nozzles (lower capacity nozzles are available on request).  The low power demand – only 2.2kW – means it can be used pretty much anywhere, it can even be powered from a small generator.
The water mist will project up to 25 metres (in still air conditions) and the fan tilt is easily varied from -10  to + 60 degrees.  Currently available for sale: 1 x unit @ £4,800 + VAT each
The Dust Fighter (DF) Smart is a compact mobile misting fan which discharges a fine mist of water droplets to suppress airborne dust.  It is easy to use and operates using 110v power plus water from a standard 15mm hose.  The water throughput can be adjusted by a simple turn of a valve on the machine.  It can also be used for cooling purposes simply as a high capacity ventilator.
The DF Smart is easily moved by one person – and it is small enough to pass through standard doorways.  It also has a lifting point if it needs to be craned into position.
DF Smart Tech Details: Water Usage: 1.0 bar – 3.6 L/min; 1.5 bar – 4.5 L/min; 2.0 bar – 5.0 L/min; 2.5 bar – 5.8 L/min; Airflow 5400 m3/hr.  Tilt Range 10 – 50 degrees, Reach 13 metres (reach is increased if placed in an elevated position).  Voltage 110v, Current Draw 20 amps.  Weight 77kg, Dimensions (LxWxH mm) 985 x 785 x 835.  Currently available for sale: 1 x unit @ £2,900 + VAT each.
Note: all the equipment sold is used, ex-hire fleet equipment.  All items are available to view and will be in working order at time of sale but otherwise are sold as seen without warranty given or implied; prospective  purchasers should therefore satisfy themselves that the equipment they are acquiring meets their need.  Sale is ex-works and prices are subject to VAT at the rate prevailing at the time of sale.
If you would like further information – please send an email to or call our hire desk on 0800-731 5521.