Ex-Hire Fleet Decontamination Units
Click to enlarge
Note: images are for general illustration only, individual models vary in detail.
Note: trailers shown here are decontamination shower units with a 3-stage (Clean-Shower-Dirty) decontamination section, equipped with HEPA grade air filtration. 
Trailers shown are road tow units with 12v road lights through a standard 7 pin connection to the towing vehicle, 50mm ball coupling, over-run braking system, and single axle.
Water heating is from an integral balanced-flue room sealed LPG water heater.  Space heating and lighting is through a standard 240v 16A inlet appliance to a consumer unit equipped with RCCD.  All units will be supplied in working order with current test certificates, but are otherwise sold as seen.  Currently we have the following availability: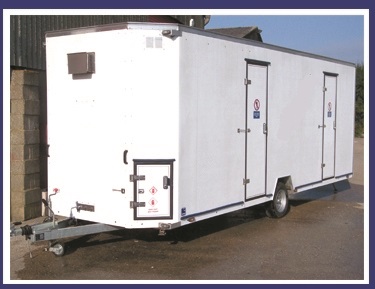 1 x Maxi Quad (16 man) mains-connect decontamination trailer (image left) available at £7,000 + VAT.
4 x Alucore Quad (16 man) mains-connect decontamination trailers available at £6,800 + VAT each.
1 x Triple Shower mains-connect DCU available at £3,400 + VAT.
2 x Single Shower mains-connect DCU's available at £3,200 + VAT each.
1 x Triple Shower self-contained DCU's (360 litre water tank + integral generator) available at £4,800 + VAT.
For the very latest on availability or to arrange a viewing please email or call our hire desk on 0800 731 5521.