When is a Shower a "Decontamination Shower" ?
Saturday, 16 February 2013 14:24
Andy Harris
It's often assumed that a decontamination shower is just an ordinary shower – which perhaps has been allocated for use by personnel undertaking particularly dirty work.  If you think that's the case – read a bit further – this might just save you from the wrath of a safety inspector !
Decontamination showers – also known as "hygiene showers" – have a number of key features you need to look for; these features aren't there by accident – they are described in technical guidance documents published a number of years ago, and subsequently updated and revised – so no excuses for not knowing.
What to look for:
1. A negative pressure ventilation system which draws air through three (yes, 3) linked compartments, filtering the air to HEPA grade before discharging it back to the outside.  Why?  To capture airborne particles / dust shed from operatives PPE, preventing spread.
And No – any old extract fan won't do; extraction systems are purpose built (to BS8520), have a filter removing at least 99.995% of dust particles down to 0.3 micron (yes – that really is small!), and will have a filtration-efficiency test certificate demonstrating that the filtration standard in BS EN 60335-2-69: 2003 has been met.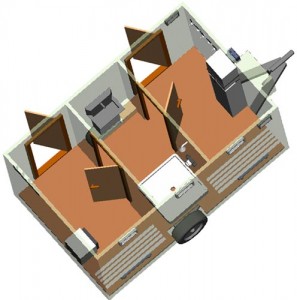 2. The pattern of ventilation through the decontamination unit is specified as high level vents to the outside in the front "clean" compartment, low level internal vents into the shower compartment, high level internal vents into the "dirty" compartment, equipped with non-return flaps.  Note – the only external wall vents permitted are in the "clean compartment" – if the shower and dirty compartments have external wall vents or opening windows – it's not a decontamination shower.
3. There must be full height partitions and internal doors dividing the shower compartment from the adjacent clean and dirty compartments, and these two internal doors and the external door to the dirty compartment must be self-closing.
4. The shower compartment must provide a minimum of 1 square metre of space for each shower point, the shower must be thermostatically regulated (simple mixing valves don't cut it here), and there must be hooks to hang RPE.  The Health and Safety Executive guidance is a ratio of 4 people per shower point (not all at the same time of course – common decency and all that !!!); what that really means is that for up to 4 people you need just a single shower unit, for 5-8 people you need at twin shower unit . . . you get the idea.
5. The water heater must be capable of delivering a warm shower and a decent spray pattern; trickling shower heads won't score you any points when an inspector calls.  Because of the amount of energy required to heat water LPG (propane) water heaters are most commonly used – but make sure you specify a room-sealed balanced flu (there are still a lot of "open flu" heaters about – they're really not suitable for this application).
6. Waste water – you could generate a lot of it; a 4 shower unit catering for up to 16 people can crack through a cubic metre (that's 1,000 litres) of water an hour.  Dependant on what your staff may be decontaminating themselves of, you may need to filter that waste water to remove suspended particulate matter before disposing of it (maybe ask your water authority).  If you do need to filter it – ask the supplier about waste-water filtration systems; if your supplier looks at you with puzzlement and a non-committal shrug of the shoulders – perhaps you need to look at an alternative supplier.
7.  There are some other points, but I'll just list them here because you're probably getting bored now: adequate space heating, internal lighting, charging points for powered respirators, lockers for valuables, bench seating, readily cleanable surfaces . . .